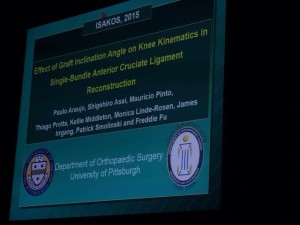 Pesquisa feita pelo Dr. Paulo Henrique Araujo, em parceria com a Universidade de Pittsburgh (EUA), foi apresentada no último congresso da International Society of Arthroscopy, Knee Surgery and Orthopaedic Sports Medicine, ISAKOS, que aconteceu entre 7 e 11 de junho em Lyon (França).
O trabalho "Effect of Graft Inclination Angle on Knee Kinematics in Single-Bundle Anterior Cruciate Ligament Reconstruction" foi muito bem recebido pela audiência, composta pelos maiores nomes da cirurgia de joelho e medicina esportiva ortopédica do mundo.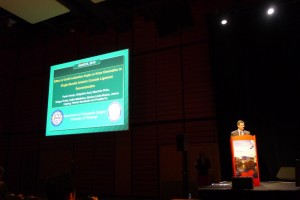 O estudo sairá, ainda, na revista Journal of Bone and Joint Surgery, uma das publicações científicas de maior impacto no campo da ortopedia.